A Hidden Sanctuary of Luxury
Live out a true island escape in our seaside villas overlooking Anguilla's most secluded beach. Where luxurious experiences unfold effortlessly, and five-star service is a way of life. Settle into ultimate relaxation with curated experiences, personal butlers, and the most exclusive private villas to claim as your own at Long Bay Villas Anguilla. 
See why Netflix considers us one of The World's Most Amazing Vacation Rentals.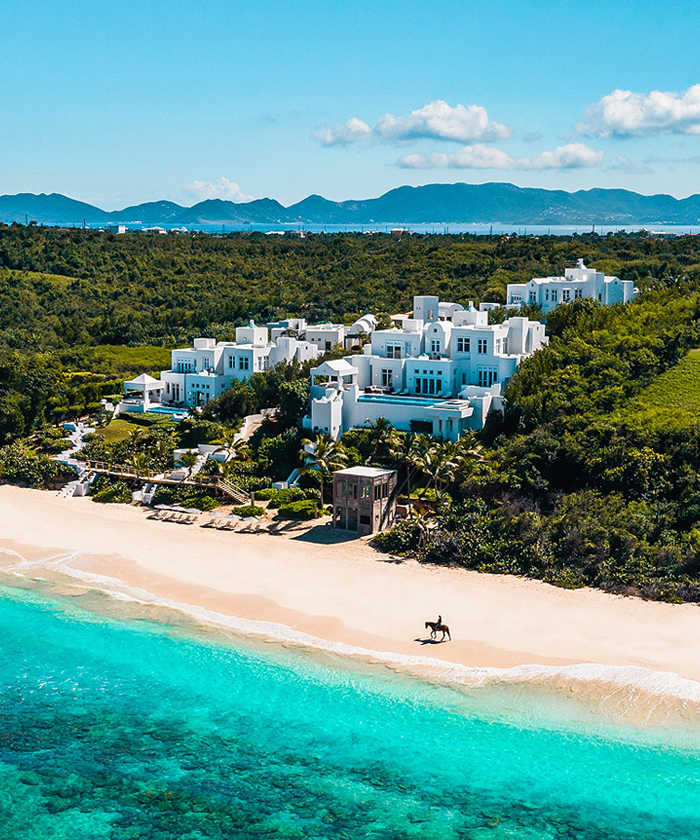 Our Villas
Sand Villa
5 Bedrooms, Sleeps 12
Enter an oasis of calm featuring inspiring views of the Caribbean Sea, original artwork, and beach chic furnishings.
Located on the east side of the property, closest to the beach.
View Details
Sea Villa
6 Bedrooms, Sleeps 11
Savor the sea breeze from our largest villa offering sublime water views, comfortable furnishings, and five master bedrooms.
Located on the west side of the property, closest to the beach.
View Details
Sky Villa
5 Bedrooms, Sleeps 10
Find yourself tucked between the Caribbean Sea and the clouds at our highest villa. Enjoy sea views, luxe amenities, and the added glamour of your own private tower.
Located in the center of the property, set back from the beach.
View Details
Reviews
Amazing Villa, Excellent People
"
Loved the pool and the view. We had a great butler, house cleaner, and chef. Our meals were amazing and our beds were very comfortable. The furniture and the art are modern and pleasing. Did I mention the view!? Thanks so much!
"
Trip of a Lifetime
"
This villa is amazing! Absolutely stunning! The staff was so kind and professional and anticipated our every need. We literally waited for nothing! The pool and beach were incredible! Love Anguilla too! This was the best trip I've been on, and we will be back, hopefully, for my 30th wedding anniversary. Thanks for everything!
"
Our Stay at Long Bay Villas Has Been Absolutely Amazing!
"
The detail the staff paid to us was the best! Every morning we were greeted with smiles. The beauty of your villas has us all talking about our return! Roberto, Juliette, and Likerah: thank you so much for your hospitality! Patricia and Claudia, we couldn't have planned it without you! And to Chef Marion…the best on the island. Until next time!
"
At the Edge of Anguilla
Surrounded by crystalline waters, your authentic island experience begins here. Bask in laid-back luxury with five-star service in the culinary capital of the Caribbean.